eHarmony Standard and Premium Pricing
eHarmony lets you sign up and get a personality profile for free. However, most of eHarmony's core features need a paid subscription, so it's best to dive in only if you're willing to pay for eHarmony's services.
You'll have two subscription tiers to choose from: Standard or Premium. Both tiers give you access to key features like seeing matches' photos and profiles, as well as exchanging an unlimited number of messages with other users.
Here's a quick summary of the differences between each plan:
| | | |
| --- | --- | --- |
| Feature | Standard | Premium |
| 3-Month Plan | $57.95/mo | $70.95/mo |
| 6-Month Plan | $34.95/mo | $45.95/mo |
| 12-Month Plan | $18.95/mo | $27.95/mo |
| Track your profile views | Yes | Yes |
| Unlimited messages | Yes | Yes |
| View match photos & profiles | Yes | Yes |
| See who favorites you | Yes | Yes |
| Search matches outside your preferences | Yes | Yes |
| Personalized expert help | No | Yes |
| Anonymous match browsing | No | Yes |
| Get read receipts on messages | No | Yes |
| Be featured match for 24 hours per month | No | Yes |
Are eHarmony's paid plans worth it? It depends on your dating goals.
First things first: eHarmony's prices are pretty steep. The company's pricing plans are definitely designed to steer you towards longer subscription terms. That creates a somewhat paradoxical pricing model where eHarmony ultimately emerges as the winner, money-wise:
If you get a long-term plan and find a match quickly, then a big chunk of the plan you paid for goes unused
If you get a long-term plan and don't find a match for months, then the plan might not be worth what you've paid for it
With that in mind, think carefully about how much you want to spend and what features you absolutely must have.
For many users, eHarmony's Standard Plan is enough. You'll get all the features you need to find and build promising connections with compatible users.
Many of the Premium plan's perks sound great, but when it comes down to it, they're just that: perks. Personalized expert guidance or being a featured match can boost your chances, but it's up to you to decide if that's worth at least $10 to $20 extra every month.
All of eHarmony's subscriptions automatically renew, so keep that in mind once you've signed up for a plan, too. If you're not planning to stick around for longer than your initial contract term, be sure to cancel ahead of your last month to avoid automatic charges.
You Can Get 3 Free Months (eHarmony Guarantee)
The eHarmony Guarantee offers you free months if you're unsatisfied with your first 3 months on the service. If you've talked to at least 5 matches in that time and find yourself unhappy with your eHarmony experience, you can contact the company and receive a one-time subscription credit worth 3 months.
How Do You Find Matches with eHarmony?
When you sign up for eHarmony, the service gets right down to business. You start by providing basic personal details like your name, location (used to find nearby matches) and physical attributes.
After that comes the bread and butter of eHarmony: an extensive questionnaire consisting of six sections, packed with questions that gauge your physical appearance, personality traits, life and relationship values, and preferences in a partner. Don't worry about giving the wrong impression: eHarmony uses your answers to find an initial list of matches, but if you feel that your answers have changed over time, you can tweak your preferences and attributes via your profile page.
Your personality profile serves as the basis for eHarmony's matching system. Every day, you'll get two types of matches: Standard or Compatible.
Standard: matches found based only on the partner preferences you've set
Compatible: matches found based on your eHarmony Relationship Questionnaire responses
There's also the What If? Feature, which shows people who are a little outside your match preferences. This is a great way mix up your dating experience a little, and it keeps the searching process from going stale while giving you a chance to find a match whom you might not have figured you'd like.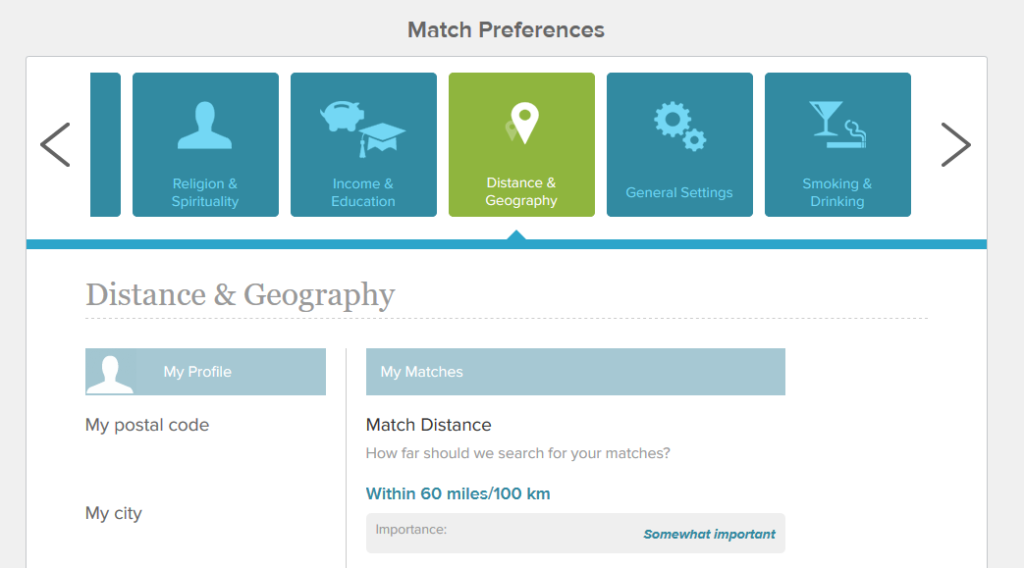 Every day, eHarmony gives you a few matches. On the one hand, this approach keeps you from getting overwhelmed, and it gives you more time to get to know each match better. However, if your daily batch doesn't quite seem promising, you will have to wait a while to get a new set of matches to work with.
Does eHarmony Let You Build the Best Profile Possible?
You'll have plenty of room to show off your best qualities on eHarmony. The great thing is that you get some help along the way. Rather than simply leaving you to fill out a profile, eHarmony helps you showcase more of your personality through a neat Q&A (questions and answers) feature.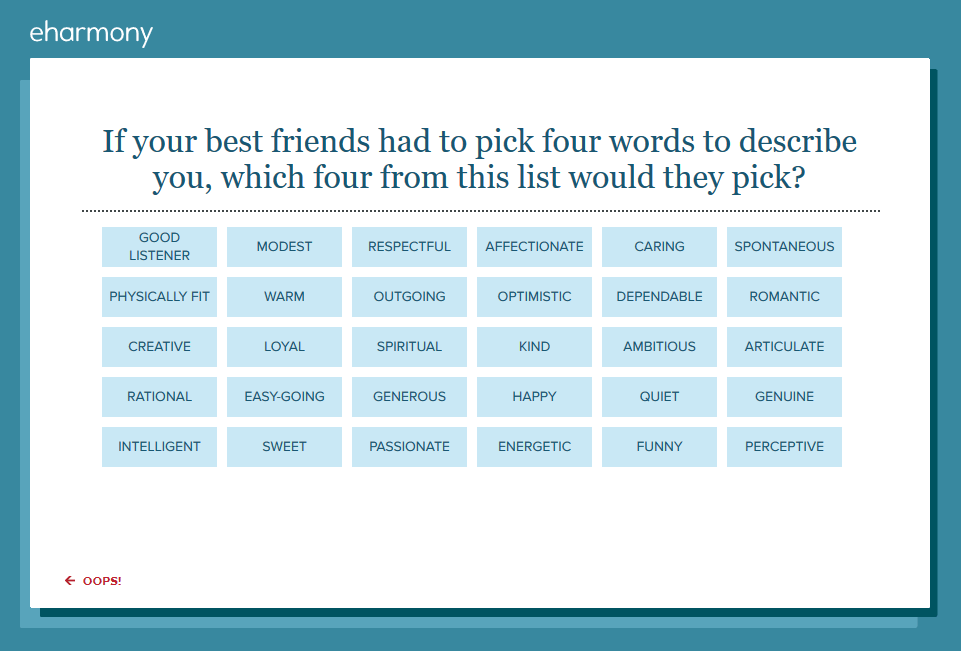 The Q&A works by giving you a continuous stream of questions. You can pick which ones you want to answer, with your answers visible to matches. It's a great way to give potential connections more glimpses of your personality and interests, and to get that deeper insight into other people you've matched with, too. You can change or update your answers anytime. When browsing matches' answers, eHarmony will give you a heads up if you've answered any of the same questions, complete with a list of where your answers agree or disagree.
You'll have to upload at least one approved profile photo to gain access to some of eHarmony's features. This is one of eHarmony's basic security measures and each photo you upload gets reviewed according to strict guidelines before being posted on your profile. You can learn more in our section on privacy. For easier photo management, eHarmony lets you link your profile with your Facebook account so you can simply import and choose from your Facebook images.
How Can You Talk to Your eHarmony Matches?
At eHarmony, you can only communicate with matches; you can't browse random profiles and simply initiate conversation with somebody out of the blue. There are three main ways to communicate with someone on eHarmony:
Sending a smile: This is the equivalent of a "poke" or "nudge"
Sending a question: You can select from 50+ pre-made icebreaker questions designed to start a conversation
Freeform messages: You can compose your own messages if you have a paid subscription
Smiles and questions can be sent or received by free members and subscribers alike. However, only subscribers can compose custom replies to questions; free members can only answer by choosing from one of the canned responses that eHarmony provides.
While you can certainly check out the eHarmony system and some initial matches using only a free plan, you'll need a subscriber account to sustain any kind of meaningful communication with other users. The text-based messaging system works well enough, letting you send messages that are as short or long as you want. Premium subscribers can also see when their messages have been read, which can be a handy feature to have if you're wary of being ghosted.
It's a bit disappointing that eHarmony hasn't embraced more interactive forms of communication like voice or video, though we understand that skipping over these options makes security easier to maintain. If you'd really like to take your conversation to the next level, you can still swap contact details for a different messaging service that provides voice or video chat.
Is eHarmony Safe to Join?
We've all heard horror stories about online dating: from catfishers who use fake identities to malicious users who mine your profile for valuable personal data. To eHarmony's credit, the service has many measures to help ensure users' privacy and security.
For one thing, your profile is only visible to people who've matched with you, minimizing the risk of a random user trawling through your profile on a whim. You have control over what information is visible on your profile, and eHarmony doesn't supply other users with personal details like your email address. Disclosure of sensitive private data (like your birthdate or full name) is up to you, and eHarmony's customer support resources do offer tips for communicating safely with other users.
All of the photos you upload also get screened for approval before being allowed on the website. The guidelines used for determining what photos are acceptable are up on eHarmony's site. Mostly the service filters out photos that are lewd or inappropriate, threatening, and so on. This ensures a clean, safe-for-work browsing experience, which is something we can all appreciate: nobody wants to be greeted by a stream of lascivious nudes every time you log in.
eHarmony's vigilant and proactive about weeding out fake profiles, quickly shutting down suspicious accounts. You can block or hide matches with a single click, and reporting harassment and other abusive or offensive behavior is as easy as a quick email to the support staff.
A Consumer Research study from 2019 shows that users report lower levels of harassment on services like eHarmony, thanks to the combination of in-depth account requirements and active profile screening. Unlike free-for-all dating apps, then, there's at least a buffer of security measures that can ensure a safer experience for you.
eHarmony Customer Support
You can find answers to common questions or issues in eHarmony's Help Center. Information is organized into clear categories like "Communication" and "Matching," which work with a handy search bar to quickly point you to the resources you need.
If you need more specific guidance, you can simply send eHarmony an email. The company's support staff is available 24/7/365, so you can expect prompt replies.
LGBT Dating at eHarmony
The main eHarmony site doesn't cater to LGBT users. Instead, it has a subsidiary site called Compatible Partners designed especially for gay and lesbian dating. We've given that a separate review, which you can find here.
Over-50 Dating at eHarmony
If you're dating as a member of the over-50 demographic, chances are you're no longer inclined to go for the fun flings and uncommitted dates that twentysomethings might be looking for. The eHarmony system is flexible enough to accommodate that as long as you're willing to put in the time to build a rich, informative profile.
You can set partner preferences to filter according to age, so finding over-50 matches won't be a problem. The great thing about eHarmony's system is it lets you build a dating profile that incorporates your life and relationship values, degree of commitment, and so on. You can refine your matching preferences to suit your needs.
The eHarmony interface itself is very user-friendly, even if you're not that tech-savvy. All options are found on an easy-to-find navigation bar, and the mechanics of finding matches, sending messages, and so on are simple and straightforward. You won't get lost on the website, and it's easy to figure out how to do basic actions like send a message or browse your matches.
If you do run into any rough spots, eHarmony's support staff can be reached by email. The lack of phone support might be a problem if you're not comfortable with email-based guidance. In that case, you might want to spring for eHarmony's Premium subscription, which includes personalized help over the phone. The service is oriented towards providing dating advice, but you can try getting technical help from your assigned guide, too.
Will You Find The One at eHarmony?
eHarmony offers an admirably detailed approach to online dating. The profile creation process can be a bit tedious, and the subscription fees comparatively steep, but in return, you'll get a meticulous, personality-based matching system. The company's compartmentalization of its user base through specialized subsidiary sites can be a boon or a bane, depending on how narrow or specific you want your potential dating community to be.
That said, eHarmony boasts of an impressive track record when it comes to long-term relationships, with over 400 couples on the service reportedly getting married every day. They've also got a better record on abuse and harassment than most dating services. If you're looking for matches that are marriage material, this is a good place to look.