Choosing the Best VPN for Kodi
Last Updated:
Table of Contents
Looking for the perfect VPN to unlock what Kodi is capable of?
If you're reading this, then you're probably already using Kodi. So congratulations to you – you're making excellent life choices. It's truly an awesome tool for managing your home media collection. And now you're looking for an equally-awesome VPN service to unlock its full potential. You've come to the right place, as this article will go over what things you should look for when choosing the best among the many options available.
And for those of you who still haven't heard of Kodi (or you're still considering setting it up at home), this guide should give you a good idea of what it can do, and how to select the best VPN for you to use with it.
Why Get a VPN for Kodi?
Well, the real question should be: why would you not get a VPN for Kodi? One of the best things about it is the wealth of content that it makes available via third-party add-ons, which are sometimes locked behind geo-restrictions. Getting a VPN that allows you to get around these restrictions opens up worlds of quality content that you normally wouldn't even have access to.
Also, with the added layers of security that come with a VPN service, you're assured that your data and internet activities remain safe and private.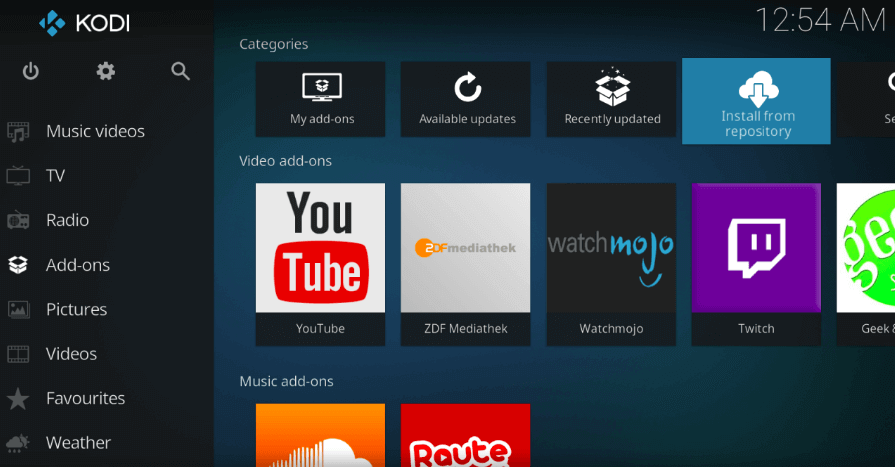 Finding the Best VPN for your Kodi
Narrowing down the wide array of available VPN service providers to a just a handful of the most suitable ones for Kodi involved two things: First, a list of must-haves which eliminated all options that didn't meet them. And second, deciding factors that could be compared among the remaining selection.
Must-haves
To truly enjoy what Kodi can offer, these VPN functions should be at the top of your checklist. These represent non-negotiables – features that are prerequisites to being the best VPN for Kodi.
Unblocks Geo-restricted Content: Any decent media collection should be able to transcend internet borders. Get access to all add-ons to maximize your Kodi experience – any self-respecting media junkie should.
Top-of-the-class Protection: It goes without saying that strong security should be a minimum requirement for a good VPN. Nothing less than the best, please.
No-logs Policy: Keep it low-key. Stay secure knowing that big brother can't see what you're doing.
Unlimited Bandwidth: Because data caps are not welcome in the world of HD multimedia streaming.
Deciding Factors
These remaining factors represent variables of how each VPN stacks against the others. With very similar functionality across the board, looking at how they measure up to these factors helps to find the best option for your Kodi box.
Performance and Reliability: Avoid that buffering icon at all costs! The best VPNs for Kodi should deliver fast connections to maintain enjoyable streaming speeds. Also, their networks should be large enough and have a healthy amount of geo-diversity to provide reliable services.
Kodi Support and Documentation: The first step is usually the hardest – and that goes for setting up your home network to work seamlessly. Thankfully, the best VPNs provide thorough guides on setting up Kodi with their tunnels.
Device Compatibility and Connectivity: The top VPNs for Kodi should be able to support all devices that Kodi can be installed on. A generous number of allowed simultaneous connections is also ideal since Kodi is designed to work as a sort of media hub for many users. (Side note: this restriction can be overcome by installing the VPN directly into your router. Luckily, the top VPNs support this functionality.)
Overall Value: It's a good thing Kodi is free since a premium VPN subscription costs a decent amount of money. All features considered, the value of the total package is always a major consideration.
Now, on to the winners:
1st Place: NordVPN – The Best VPN for Kodi
Taking top honors is NordVPN. It's got pretty much everything you could hope for in a VPN service. Paired with your Kodi media box, NordVPN provides the optimal set of features to keep your media collection organized, updated, and enjoyable.
The Good
The Bad
– Up to 6 simultaneous connections.
– Expensive  one month plan.
– Impressive network.
– Fast speeds.
A mammoth network and speedy performance make NordVPN an absolute pleasure to use with Kodi. Download and streaming speeds remain fast and video buffering times are minimal. You'll have no problems enjoying your HD media even with the added protection.
NordVPN also has a decent resource of documentation for Kodi on their official website. You can find it in the Help section under General Info. Also, with an excellent live chat feature, NordVPN can easily assist you if you run into any problems.
And with support for up to 6 simultaneously connected devices, NordVPN allows more users to safely enjoy the benefits of Kodi.
Read the full NordVPN review here.

| | | | | |
| --- | --- | --- | --- | --- |
| | NordVPN | ExpressVPN | PrivateVPN | Windscribe |
| Price Per Month | $11.95 | $12.95 | $7.67 | $9.00 |
| Unlimited Bandwidth | ✓ | ✓ | ✓ | ✓ |
| | | | | |
| Servers | 4300+ | 2000+ | 100+ | 500+ |
| Countries Located | 60+ | 90+ | 50+ | 50+ |
| Performance | Excellent | Excellent | Good | Average |
| | | | | |
| AES 256-bit Encryption | ✓ | ✓ | ✓ | ✓ |
| No Logs Policy | ✓ | ✓ | ✓ | ✓ |
| | | | | |
| Unblocks Geo-restrictions | ✓ | ✓ | ✓ | ✓ |
| Official Documentation | Good | Excellent | Good | Some |
| Kodi Compatible | ✓ | ✓ | ✓ | ✓ |
| Connected Devices | 6 | 3 | 6 | Unlimited |
2nd Place: ExpressVPN – All-around Great Choice
ExpressVPN is one of the best VPN providers out there. It's blazingly-fast, super secure, and fully-featured. So why isn't it at the top spot? Well, aside from the very expensive price tag, the only real downside to ExpressVPN is its tight limit on simultaneously connected devices.
| | |
| --- | --- |
| The Good | The Bad |
| – Lightning-fast connections | – Only 3 simultaneous devices. |
| – Excellent server coverage. | – Expensive – even the longer-duration plans are pricey. |
With servers in over 90 countries, ExpressVPN has literally got you covered. Choose from a wide array of servers to unblock content from anywhere you need. Their VPN tunnels consistently score among the fastest in the industry – ensuring that your data-intensive needs are always met.
ExpressVPN provides excellent support for Kodi users as their website contains plenty of helpful Kodi-specific material. From demonstrative information to step-by-step setup guides, ExpressVPN is fully aware of the significance of Kodi and provides amazing support for using it alongside its VPN.
Read the full ExpressVPN review here.
3rd Place: PrivateVPN – Best Value
Coming in third is PrivateVPN – the most affordable option on this list by a significant margin. But make no mistake, this VPN comes fully-packed with all the high-end functionality of its more expensive counterparts.
| | |
| --- | --- |
| The Good | The Bad |
| – Up to 6 simultaneous connections. | – Not as fast, but still gets the job done. |
| – Unbeatable value. | |

With a $7.67 price tag, PrivateVPN offers fantastic value and doesn't skimp on any of the good stuff. But unsurprisingly with the lower pricing, performance isn't as impressive as the first two VPNs. It's still good, but noticeable drops in speed and a limited network size prevent it from being the best VPN for Kodi.
Also, setup guides specific to Kodi are available on the official PrivateVPN website. They're not as comprehensive as the first two, but configuring PrivateVPN to work seamlessly with Kodi shouldn't be any trouble.
Finally, with support for up to 6 simultaneous devices, using Kodi with PrivateVPN should be comfortable for multiple users.
Read the full PrivateVPN review here.
Honorable Mention – Windscribe
This newcomer to the market deserves a special mention for being a great VPN option for Kodi users. It's got all features you'd want at a reasonable price point. There's also a free plan available. All things considered, it's a rather sweet deal.
| | |
| --- | --- |
| The Good | The Bad |
| – Unlimited device connections. | – Mediocre speeds. |

Perhaps its most Kodi-friendly feature is that Windscribe allows for an unlimited number of devices to be connected simultaneously.
The Windscribe website also has very basic information regarding Kodi installation on its website. The page is very sparse, though, and looks like it hasn't been updated in a while. Still, it's good to know that Windscribe supports it.
The only thing about Windscribe that leaves more to be desired is that the service has observable negative impact on download and streaming speeds. But if you already have a fast connection to begin with, then any loss in bandwidth should still be tolerable.
Read the full Windscribe review here.
Conclusion
All the VPN services highlighted here are viable choices and would go a long way in adding to your enjoyment of Kodi. They each offer powerful security and privacy tools, unlock geo-restricted content, and have great track records of consistently fast performance.
But since this article is about finding the best VPN for Kodi, only one gets to have that esteemed title. And clearly, NordVPN takes the prize here. Taking the definite lead with amazing performance and support for 6 simultaneously connected devices, NordVPN shows that it's the best VPN in this category. Its only drawback of having an expensive one-month plan can easily be circumvented by opting for their longer-duration subscriptions which offer much better value.
Sign up for NordVPN's 2 year plan (priced at $3.29 per month) now and unlock your Kodi box's full potential.