Roboform Everywhere Pricing and Features
As previously mentioned, Roboform offers a free password manager which includes the essentials like unlimited login storage, form auto-fill, support for several platforms (Mac, Windows, iOS, Android, and popular browsers like Google Chrome, Microsoft Edge, Safari, Mozilla Firefox, and Opera), password strength evaluation, login credentials sharing, and bookmarks management. If you want more powerful features, you can subscribe to Roboform Everywhere, which costs $19.95 a year for individual use, and $39.90 for the Family package, where up to 5 users can enjoy the software.
These paid packages offer the following additional features: syncing across all devices, cloud backup, two-factor authentication, secured folder sharing, data sharing for emergency access, data access via the web, and dedicated email and phone support 24/7.
Meanwhile, if you need a password manager for your organization, Roboform for Business is available for only $29.95 a year per user. This package was especially designed for business- aside from every feature mentioned above, it has centralized account creation, security policy set-up, secure group sharing, four permission levels for different roles, custom 2FA, directory master password integration, audit reports, and a dedicated tech support. If you're still unsure, you can test drive their business-focused software for 14 days via the free trial offer.
| | |
| --- | --- |
| Plan | Price |
| Roboform Everywhere for Individuals | $19.95/ year |
| Roboform Everywhere for Family | $39.90/ year |
| Roboform for Business | $29.95/ year/ user |
Roboform Everywhere Ease of Use
Using Roboform Everywhere is just like a walk in the park: First, download and install the program; then choose a master password that will be the main key to your all of your password stored. Make sure this password is super hard to crack, and do not forget it, as Roboform will not keep it for you in their servers, for security purposes. You can then add login details directly to the password manager, or go about browsing as usual while Roboform automatically stores account details as you go. The next time that you try to log in to a specific account, all you have to do is click the appropriate username and you're all set!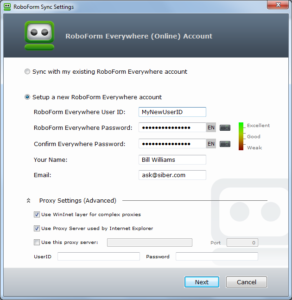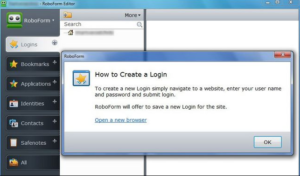 End-to-End Security
Data security is considered a major priority nowadays, and it's becoming harder and harder to decide which software to trust, with all the attacks and hacking happening left and right. Roboform assures its users that all data are fully secured, thanks to AES256 bit encryption with PBKDF2 SHA256. Master passwords are never stored in their servers- only the account holder has means to open their own account. Two-step verification is also applied to paid accounts for even more foolproof security. In this case, a one-time-password is sent to the user's email or mobile number to ensure authorized access.
Roboform Everywhere Customer Support
Roboform has an informative support center where you can read more on the features and usage of the software. You can use the search toolbar to narrow down to relevant articles, or you can browse them freely via their respective categories. If you need to contact their team, you can reach them via live chat, email, and phone. They also have social media channels in Facebook, Twitter, and Youtube that you can follow.
What's the Verdict on RoboForm Everywhere?
A Must Try
Roboform Everywhere Review 2020 – Conclusion
As a password management system, Roboform puts security first before anything else, with AES256 encryption, local data storage to prevent any data leaks, and two-factor authentication for paid subscribers. All essential features can be found in the free version, while more convenient and secured perks are offered in the paid packages, which are reasonably priced, by the way. The software stays away from fancy and flashy designs, but pretty much offers the standard when it comes to password management. If you're looking for a password manager with less the flair and more on security, then you might want to give Roboform Everywhere a try.