How Appy Couple Works
Getting started with Appy Couple is a painless process. You start by choosing a design for your website, app, and digital stationery then you enter the desired information (stories about and pictures of the couple, key people, event and travel data, your registry, etc.). After that, you enter your guest list and send out invitations either by including your Appy information on printed versions or sending digital invitations via Appy email. Your guests will be able to browse and RSVP via visiting your website or downloading your app. Depending on your privacy settings, guests can only enter your site or view event information if they have your wedding code or match what's on your guest list.  You will be notified each time someone responds to the RSVP, and you can send out additional reminders as well.
Appy Couple Templates
Depending on which pricing plan you select, you can choose from Appy Couple's selection of themes. The lower paid tier allows you access to the Boutique Collection of templates, which is quite exhaustive (over 500); the higher paid tier adds options from the Luxury Collection, which includes limited edition designs created by designers like Carolina Herrera.
You can change designs at any point in time by simply selecting a new template. My wife and I had a great time browsing through all of the options which included plain colors, patterns, floral designs, vintage designs, and even overlays of maps (New York, London, etc). Designs are applied to your website, your app, and email templates. All of our guests commented on how nice the website and app looked.
Appy Couple Features
Appy Couple is an exceedingly simple wedding website builder to use. That being said, it comes with a fairly complete list of features.
Web-based Editor. You can access your editor from your phone or computer – wherever you are. The editor is your home base where you manage the entire system.
Sharing Information. The website has dedicated areas to upload important and fun pieces of information including:

Stories (e.g. how you met, how you got engaged, etc.)
Pictures
Key People (bridal party, best man and maid of honor, parents, siblings, etc.) with pictures and stories
Events (reception, ceremony, bachelor and bachelorette parties, and anything else) that you can set to be only visible invited guests
Travel information
Registries (Appy Couple interfaces with most major wedding registries) directly accessible from your website
Guest List & RSVP Management. One of Appy Couple's nicest features; this is reviewed in detail in the next section.
Photo & Video Gallery. You can add photos and videos of yourselves as well as the event and share them with everyone. The nice thing about Appy Couple is that once you pay for it, you have it forever. In addition to before the wedding, we used the website afterwards to show everyone our pictures as well as to get everybody else's pictures.
E-mail. Beyond the invites, Appy Couple allows you to send out reminders, updates, and even address collection e-mails before it all gets started.
Sections Just For Fun. Appy Couple allows you to a countdown clock to build excitement, a Guest Book to receive notes from loves ones, and on the app, a section for virtual champagne toasts!
Guest Lists, Invites, and the RSVP System
One of the nicest aspects of Appy Couple is its guest management system. Most weddings consist of multiple events leading up to and following the actual 'I Do'. Appy lets you invite guests to specific activities rather than just one generic wedding invite. The first thing you do is add your guests. You can add their contact information manually or upload by filling out Appy's CSV file template if you want to copy your list from somewhere else. The system for this is easy and intuitive. From there you can add plus ones, create groups and select which guests you'd like to invite to private events.
Pro Tip!
When adding plus ones, add the guest and then just mark how many plus ones they have. When the guest RSVPs, they will put in all of their plus ones' information. This isn't so intuitive but is a great addition as you won't need to track down all of your friends' latest significant others.
Once you have uploaded your guest list, you can arrange families and groups. Appy will pull out a guest count of how many people are invited to each separate event.
Inviting guests is as easy as the rest of it. In Appy Couple's "Email Guests" area, you choose what type of message you want to send, fill out the message, mark which guests you want to send it to, and hit send. Appy Couple is not an e-mail system at its core so your customization options are a little limited here, but it's more than enough for what most people will need. Once you have sent messages, you will be able to see how many have been sent, how many have been received, and even how many have been opened.
Real-Time Notifications and Informative RSVP Responses
Guests RSVP through the website to individual events, say a rehearsal dinner versus the reception, so a guest might accept one event but decline another. If you have the app, you will get real-time notifications every time someone RSVP's (which I admit is a little nerve-wracking!). Otherwise, you can log in to your dashboard to see who has RSVP'd which way. Later, you can send emails to groups of people based on who has accepted, declined, or not responded.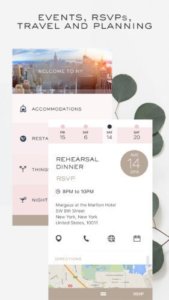 You can also add additional questions that guests can answer when they RSVP, which can be useful for getting information about meal choices (especially for vegetarians or people with food allergies). All of that information is saved and can be downloaded into spreadsheets.
Appy Couple Pricing
Appy Couple has two pricing plans based on your access to designs: the "Boutique Collection" and "Luxury Collection". The Boutique Collection is a $39 one-time fee and the Luxury Collection is a $89 one-time fee. These prices are low compared to competitors, and extremely low compared to designing, printing, and mailing real invites.
Appy Couple Review 2018 – Conclusion
In conclusion, Appy Couple is a pleasure to use and a major money-saver. It has a few cons but they are more small kinks in the system than anything major and we are confident that the platform will only improve with time. It wouldn't surprise us in the slightest to see more and more people moving to a system like this for managing their wedding.