Zoosk Premium Pricing
As with most online dating services, Zoosk lets you sign up for free. However, this is more of a trial run than a full-fledged account. You can fill out your profile, search for matches, and check out features like SmartPick, but you won't be able to exchange messages with other users. The extent of what you can do on the free plan is also limited by your profile's layers of verification (see our section on safety below), so if you're not inclined to give Zoosk personal details like your social media or phone number yet, you'll have even fewer to do.
To talk to other users, you'll need a paid subscription. Zoosk only offers one subscription package, and the main benefit you get is unfettered use of the communication system.
Here's a quick look at what subscribing will cost you:
| | |
| --- | --- |
| Contract Term | Monthly Fee |
| 1 Month | $29.95 |
| 3 Months | $19.95 |
| 6 Months | $14.98 |
Is a Zoosk subscription worth it? No, but if you're dead-set on using Zoosk, you'll need one to make the most of the dating website.
Compared to other dating services' paid subscriptions, Zoosk's doesn't deliver nearly enough value for the money. Here's why: other premium perks require separate fees paid via Zoosk coins.
You can purchase coins for the following costs:
| | |
| --- | --- |
| Zoosk Coins | Price |
| 95 | $9.99 |
| 250 | $19.95 |
| 700 | $49.95 |
You can then use these coins to purchase boosts like:
delivery confirmations for your messages
access to a Carousel match's [link: carousel] full profile
Premium Messaging [link: comms] to let you interact with free users
greater visibility for your profile
Both free and paid users can buy Zoosk coins, but only paid users can buy the messaging enhancements.
The Zoosk coin system is a transparent bid to get you to spend more money, and it's disappointing that Zoosk doesn't just bundle all these features into their paid subscriptions. What makes this worse is that Zoosk's subscription rates aren't even the lowest in the industry, so you're likely spending more to get fewer features than you'd receive elsewhere.
Considering how underpowered Zoosk's free plan is, the service's ill-conceived pricing structure seems like enough reason to skip Zoosk altogether.
How Do You Find Matches at Zoosk?
Zoosk sets itself apart from the competition by taking a "behavior-fueled" approach to its matchmaking. This means a speedier profile setup process, as Zoosk skips over most of the personality assessments that other sites require. Instead, you're asked for key attributes like physical appearance, lifestyle and habits, age, and so on, as well as your corresponding preferences for potential partners. From there, Zoosk's system sends you initial matches, and it tweaks future results according to which suggestions you like (or skip).
Zoosk SmartPick Calculates Compatibility
SmartPick uses a survey covering typical habits, attributes, and values to build a better picture of what you want in a partner. You can answer additional survey questions anytime, and the more you answer, the more information SmartPick can use to refine your resulting matches.
Zoosk Carousel and Super Send Expand Your Dating Pool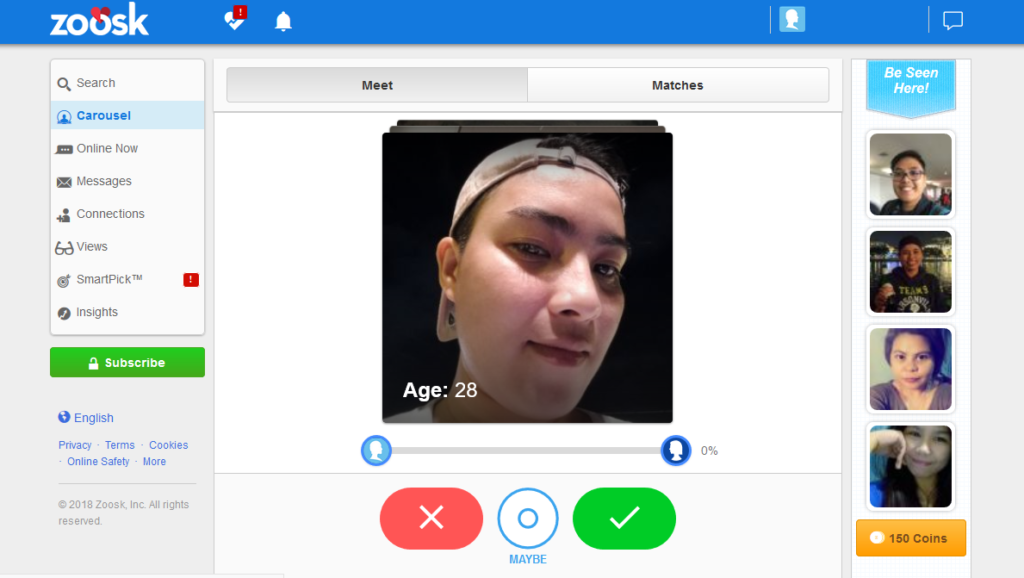 Unlike SmartPick, which tests for compatibility between users, Zoosk Carousel works more like the popular Tinder dating app. Zoosk simply sends you a series of cards bearing users' profile photo and age, and you can choose if they're a "Yes", "Maybe", or "No" for you. Any Yeses and Maybes get notified of your interest, and if they agree, Zoosk makes you Mutual Matches and adds you to each other's list of Connections. If you want to check out someone's full profile before you become Mutual Matches, though, you'll need to buy the separate Zoosk boost using Zoosk coins.
Meanwhile, Super Send lets you send an icebreaker message (chosen from a pre-made set) that Zoosk then sends out to multiple users at once. A reply will make Zoosk grant you access to each other's profiles as well as let you interact more via the messaging system [link: comms].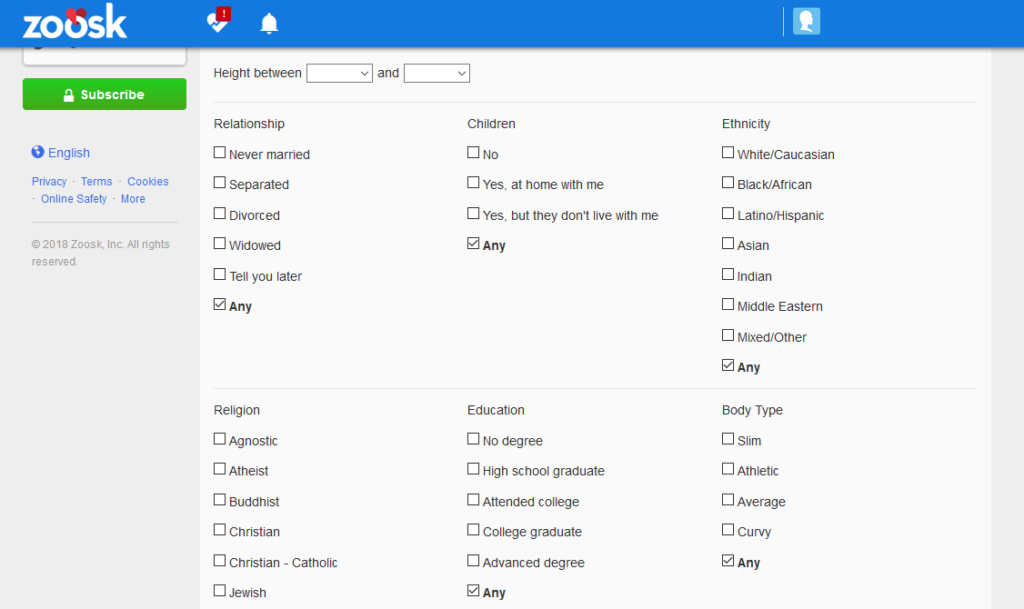 Aside from these features, you can do manual searches, or simply chat up any other users who happen to be online. Compared to other dating services, Zoosk gives you more options to seek out potential matches. If you'd like to do more than simply wait for a new set of matches every day, then you might take well to Zoosk's style.
Can You Build a Great Profile at Zoosk?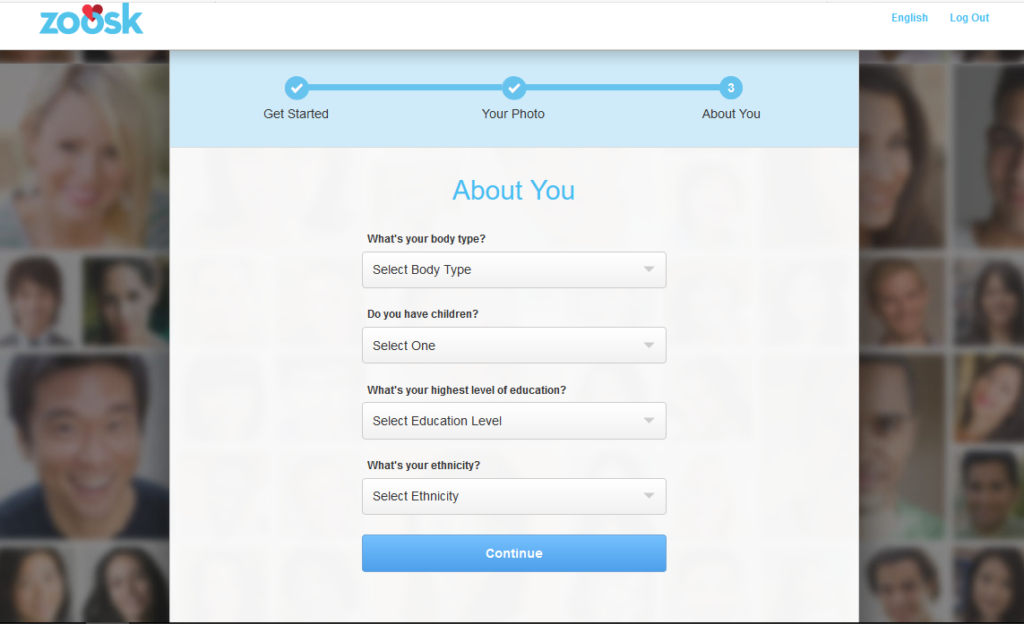 Zoosk has several open-ended profile sections that leave you plenty of room to talk about yourself or what you're seeking in a partner/relationship. If you prefer the kind of guided approach that populates your profile with answers from an extensive, pre-made questionnaire, though, you might find Zoosk's profile customization style a bit tedious.
Your Zoosk profile asks you to talk about things like your perfect match or ideal date, but these are entirely unprompted—there are no guide questions, so what you place here is entirely up to you. You can also showcase your interests by adding them to your profile, similar to how you add these to your Facebook profile.
In fact, Zoosk lets you link your account to Facebook or Google, so some sections can be automatically filled out with data from those accounts. You can also link your Facebook or Twitter accounts, which serve as an additional way to verify your identity/profile. (You can learn more about Zoosk's profile verification measures in our section on safety.)
How Do You Talk to Matches at Zoosk?
Free and paid users alike can send Smiles or Winks to signal their interest in someone. If you actually want to talk to your prospects, though, you'll need a paid subscription.
Zoosk gives you a text-based messaging system for interacting with other users. Unlike other dating services which only let you exchange messages with your matches, Zoosk lets you message anyone directly from their profile. You can even message someone who just happens to be online at the same time — Zoosk displays a list of online users, all of whom you can contact if you'd like.
Zoosk also offers a variety of virtual gifts that you can send to someone to let them know you're really interested. However, you'll need to buy these gifts using Zoosk coins.
Is Zoosk Safe to Join?
Broadly speaking, yes. Perhaps as a response to the many complaints of fake profiles, Zoosk now implements a profile verification system that keeps features locked until you verify your identity. To use Carousel or get SmartPick matches, for example, you'll need to verify your mobile number. The same goes for sending other users messages: if you haven't verified your account via social media or mobile number verification, you won't be able to communicate.
Zoosk uses a similarly involved process for photo verification. You'll be asked to upload a video of yourself, which Zoosk moderators will then use to judge if you're really who you say you are in your profile photo.
Despite all this, though, Zoosk differs from most dating services in that your profile is visible to all users, regardless if they've matched with you or not. This can make you a bit more vulnerable to harassment or uncomfortable messages from random strangers. That said, Zoosk does let you put your profile "on pause", temporarily deactivating it and rendering you invisible—a good option if you'd like to tke a break from online dating altogether.
If you'd like to stay active on the site while hiding your activity from other users, you'll need to buy the Hide & Seek upgrade. This lets you toggle your profile's visibility, as well as the visibility of your online activity. Depending on your chosen level, only selected users would see your profile or know if you've viewed them.
Zoosk Customer Support
Zoosk provides support mainly through its Help Center, which is well-organized and easy to search. The Help Center functions as an extended FAQ. If you're looking for more specific troubleshooting help or assistance, you can contact the Zoosk support staff—somehow. Unlike many of its competitors, Zoosk doesn't have a clear button or page that puts you in contact with their support team, and it's a bit unclear how you might do that at all.
LGBT+ Dating at Zoosk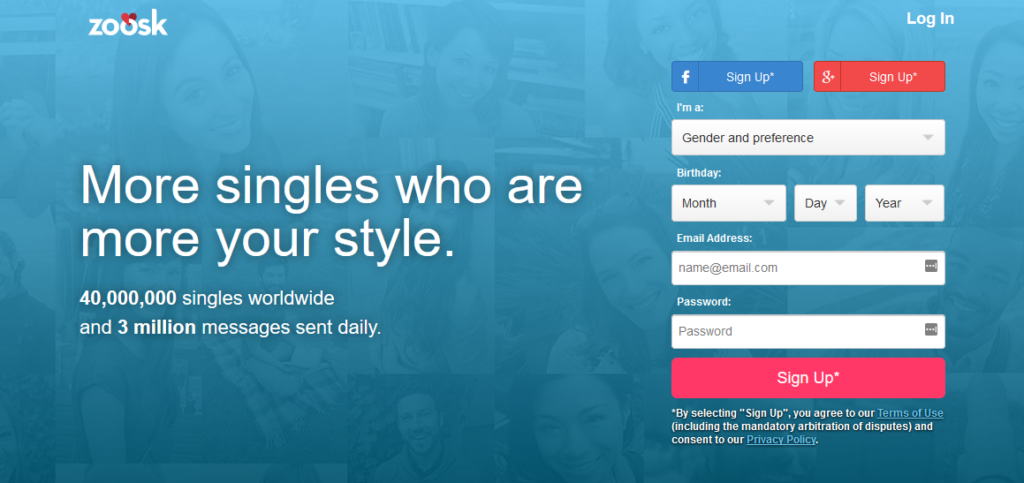 Zoosk accommodates any mix of genders for its potential couples. If you're an LGBT+ single, you only need to indicate if you're looking for people of the same sex and Zoosk's matching system will work according to your selection. There are no features designed specifically for LGBT+ users, but rest assured that all of Zoosk's existing features will work for you without a hitch.
Over-50 Dating at Zoosk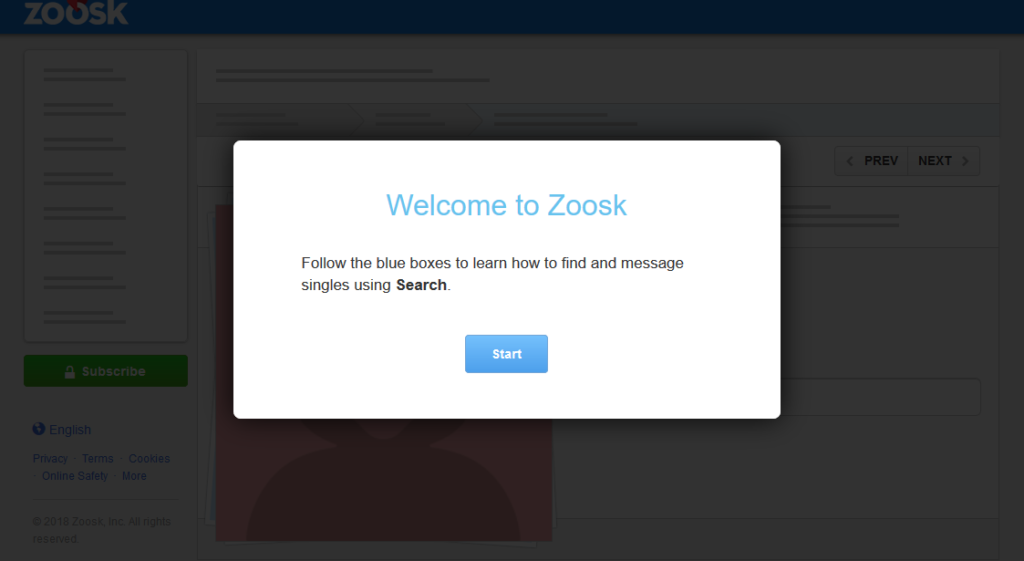 Zoosk's streamlined interface and step-by-step onboarding tutorial are great for seniors who don't consider themselves tech-savvy but would still like to try online dating. Zoosk lets users specify preferred age ranges, as well as other search criteria like location/proximity and marriage status.
Will Zoosk Help You Find Love?
By themselves, Zoosk's features aren't bad. You get more tools for finding potential partners here, plus a bit more freedom and flexibility when it comes to your searching. Users who feel constrained by dating services that simply send a batch of suggested profiles every day will like Zoosk's more proactive approach.
However, Zoosk's pricing structure and persistent fake profile problem are big minuses that all but take Zoosk out of the running in our rankings. Zoosk's paid subscriptions offer disappointing value for money, thanks largely to the "subscription upgrade" system that has you buying Zoosk coins to pay for continued use of premium features. Meanwhile, despite Zoosk's attempts to ramp up profile verification measures, many users still complain about having to sift through tons of fake profiles, making the whole matchmaking process tedious, if not entirely ineffective.
Zoosk tries to put some interesting new spins on staple online dating services, and it exerts admirable effort to be user-friendly. However, the minuses in this case far outweigh any advantages. If you'd like a fruitful, pleasant online dating experience, you're better off trying elsewhere.