SEMRush Premium Pricing
SEMRush gives you three pricing plans to choose from, with the option to get a customized plan if your needs exceed these packages. Of the three standard options, SEMRush differentiates mostly through volume. If you have to track several projects or thousands of keywords, maintain 10+ social media accounts, or generate hundreds of reports, then you'll need to pay more.
Here's a quick look at each plan:
| | | | |
| --- | --- | --- | --- |
| Features | Pro | Guru | Business |
| Monthly Fee | $99.95 | $199.95 | $399.95 |
| Historical data | No | Yes | Yes |
| Projects | 5 | 50 | 200 |
| Keywords tracked | 500 | 1.5K | 5K |
| Site Audit pages per month | 100K | 300K | 1M |
| Social accounts monitored | 50 | 100 | 300 |
| Multi-device targeting data | No | Yes | Yes |
| Analytics results per report | 10K | 30K | 50K |
| Analytics updates/reports per day | 3K | 5K | 10K |
| Traffic results per report | 50 | 1K | 5K |
| White-label reports | No | No | Yes |
| Max additional users | 1 | 2 | 9 |
| Price per additional user | $70/mo | $140/mo | $140/mo |
| API access | No | No | Yes |
Are SEMRush's premium pricing plans worth it? Yes.
Each plan can provide value for different kinds of projects or businesses.
The Pro package's lack of access to historical data may be a liability for established marketing agencies or businesses. After all, historical data lookup can be a vital tool for scoping out your key competitors' performance record and identifying opportunities in their (or your) past marketing data.  But this feature isn't as big a deal if you're just starting out, entering a relatively young industry or niche, or not aiming to compete on the same level as large-scale industry players. The Pro package can still deliver great value for these types of users despite its limitations.
If you're aiming to use SEMRush reports as direct components of your professional output, though, you'll need to get a Guru package or better.
The Guru and Business plans let you use your own branding, though only the latter will give you completely white-label (no SEMRush branding) output.
SEMRush Gives Your Money Back
SEMRush gives you a 7-day money-back guarantee. If you want to cancel your account, you just need to send an email to SEMRush to get a refund.
Power Up Your SEO with SEMRush
These are SEMRush's bread and butter, and there's a bounty of features here.
For starters, you can monitor search engine performance for yourself and key competitors. SEMRush can look into both organic and paid traffic, presenting impressive—if not overwhelming—breakdowns of the research data behind the results you're getting.
The Organic Research tool, for example, gives you the option to view your organic search result position for various keywords. Not only will you get a chart of top traffic-driving keywords for your domain, you'll also get your current and past rankings for each keyword. SEMRush also includes estimates for yearly search volume, these keywords' share in your overall site traffic, and more.


If you want to go deeper, you only need to click on elements in your chart or report. SEMRush will expand each keyword, for example, to reveal a brief summary of the keyword, estimated search trends, a list of potentially related keywords, and more. You'll get more than enough information to inform your marketing decisions and strategies, and all within a clean, digestible format.
SEMRush's analysis and research tools can look into areas like:
Organic and paid search
Link building and quality
Performance of display ads (including impressions and conversion rates)
Audit Your Site with SEMRush
SEMRush offers a full-blown Site Audit service that checks your website for any issues that might be harming your search engine rankings. The Site Audit tool goes deep, identifying tons of issues and compiling these into a handy list. You can expect it to find problems like:
Unoptimized external and internal links
Missing tags
Broken images
Error pages
Working with Keywords Using SEMRush
Our theme of impressive breadth and utility continues, as SEMRush offers tons of keyword-related functions that will help you optimize your content's relevance for target audiences.
You'll find keyword optimization tools that help identify promising keywords for your business. SEMRush will also gauge the difficulty of ranking with each keyword—a great tool for guiding your SEO strategies.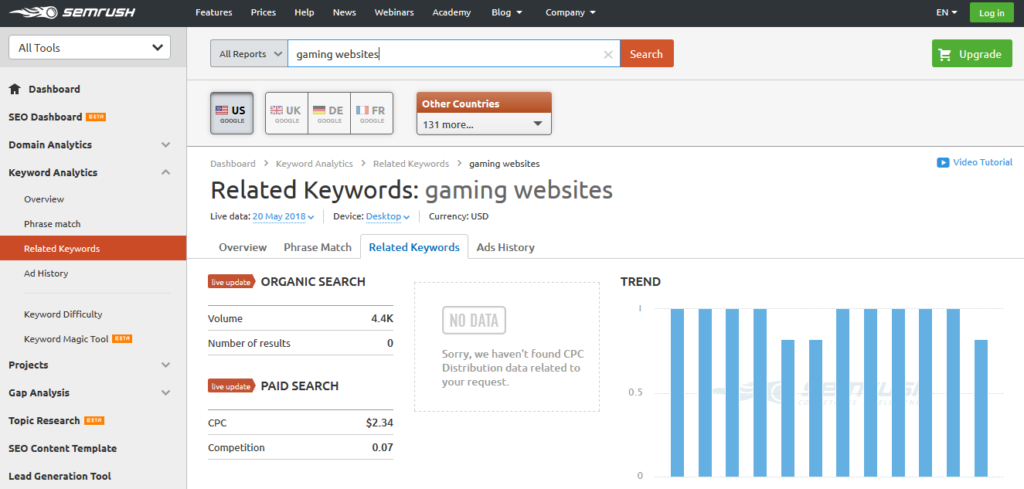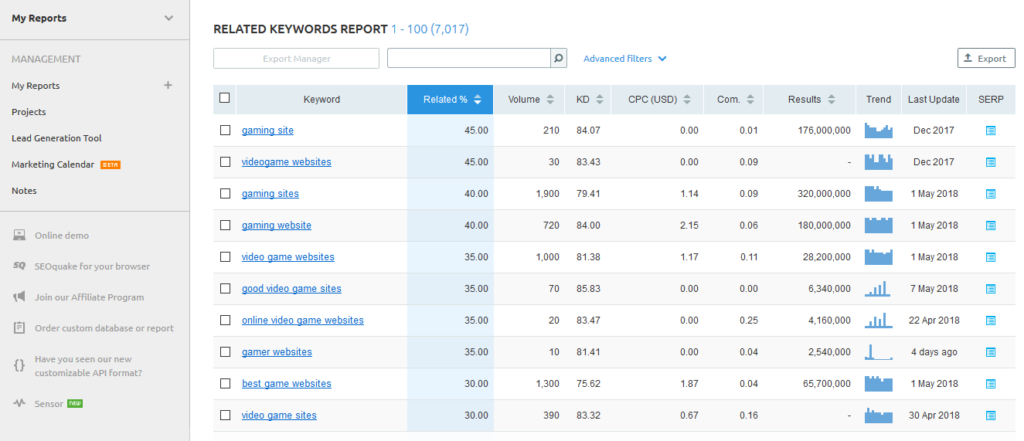 As for the keywords you're currently working on, SEMRush can help out there, too. You can monitor thousands of keywords, chart your historical performance for different keywords, or even see how your competitors rank—and what factors are helping or hurting their rankings. This means you're not just strategizing in a vacuum: you can pinpoint opportunities or assets that are helping your competitors and actively figure out how to use or trump these as well.
The best part about SEMRush's keyword advisory services, though, is its deep database: the information it uses for analysis and recommendations comes from data covering 26 different regions, from North America to Europe, the Middle East, and more. The SEMRush database packs over 100M keywords, with regular updates every day, week, and month to ensure fresh insights.
SEMRush Handles Social Media
SEMRush also covers social media, letting you add and monitor numerous social channels and profiles. As with SEMRush's other features, expect a staggering level of detail here, though presented in a way that's user-friendly and accessible.
SEMRush's social media tools let you do things such as:
Track audience size and engagement
Chart audience behavior and responses over time
Pinpoint top-performing posts
Compare your social media performance with competitors
Market Research at SEMRush
In fact, SEMRush packs a lot of competitive analysis tools into its arsenal. If you're working in a crowded field or looking to enter a busy industry, SEMRush might just be your next best friend.
The handy Domain vs Domain tool, for example, lets your website go toe-to-toe with up to 5 competitors in an exhaustive evaluation of search engine performance. You'll find ranking comparisons for different keywords, your competitors' most common and best-performing keywords, and more. SEMRush will even compile keyword usage into a handy Venn diagram so you can see where your keyword targets overlap.
Similarly, SEMRush's other SEO tools have extensive competitor analysis functions baked right into their systems. As we pointed out earlier, for example, search traffic analysis will also let you see how your competitors are doing—and in great detail. The same goes for other areas of analysis, such as display advertising. SEMRush even lets you estimate competitors' ad spend/ad budgets, identify which publishers your competitors prefer to use for advertising, or keep an eye on up-and-coming competitors on different advertising networks.
Reporting with SEMRush
As with most SEO tools/platforms, SEMRush generates PDF reports packed with bold graphics, attractive charts, and so on. Depending on your chosen plan, you can even use your own branding—though you'll have to pay premium if you want completely white-label reports.
SEMRush even makes reporting and dissemination easier. You can schedule report generation and delivery, fully automating the process.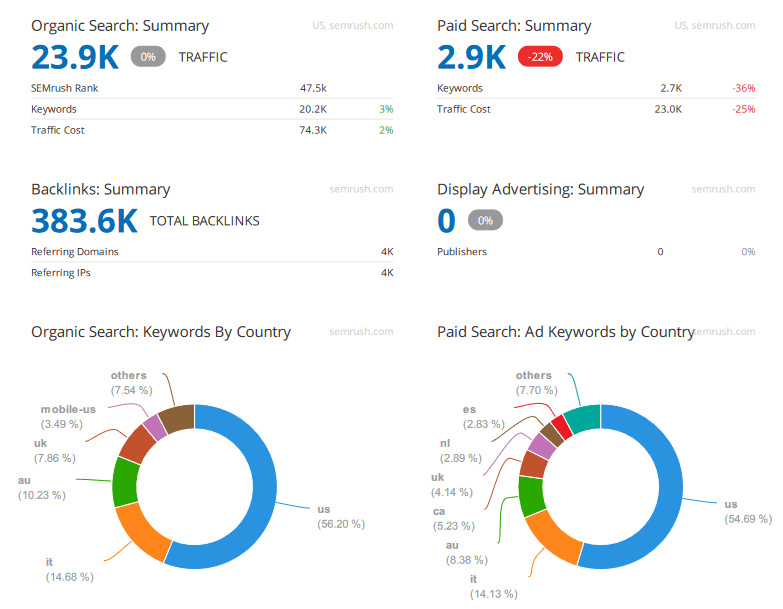 It's worth noting, though, that SEMRush leans more towards delivering estimates in place of hard numbers. Sometimes, for example, you'll find SEMRush reporting 30K visitors per month for a website when actual records might show 50K actual visitors. This can be confusing, especially if you need actual, precise numbers.
That said, SEMRush still accurately reflects the big-picture trends and contours of your data. While the numbers might be a little off, they still point in the right direction.
Customer Support
SEMRush keeps a toll-free phone line for US customers, as well as toll-free international numbers for customers from the UK, Russia, Spain, Italy, and France. There are also contact forms on the website itself, as well as email addresses for the support and sales teams, plus handy buttons for filing demo requests.
If you'd like more general information, SEMRush also provides a detailed Knowledge Base packed with helpful articles and how-to guides. There's also the SEMRush Academy, which gives you courses and certification exams for different aspects of SEO, affiliate, content, and social media marketing. These are free for SEMRush users, and they're valuable resources for upping your SEO and web marketing game.
Can SEMRush Help You With SEO?
SEMRush aims to be the tool for SEO and SEM professionals, and for the most part, it succeeds. Its feature-set attacks the various aspects of web marketing with laser focus, providing both breadth and depth when it comes to everything from keyword tracking to competitive analysis.
However, SEMRush does skip on some helpful ancillary features that other platforms provide. You won't find content management systems (CMS) here, for example, or website builders and hosting options. This might be a deal-breaker for some. If you just want a lean, finely tuned marketing aid, however, SEMRush is a simple and thoroughly effective choice.